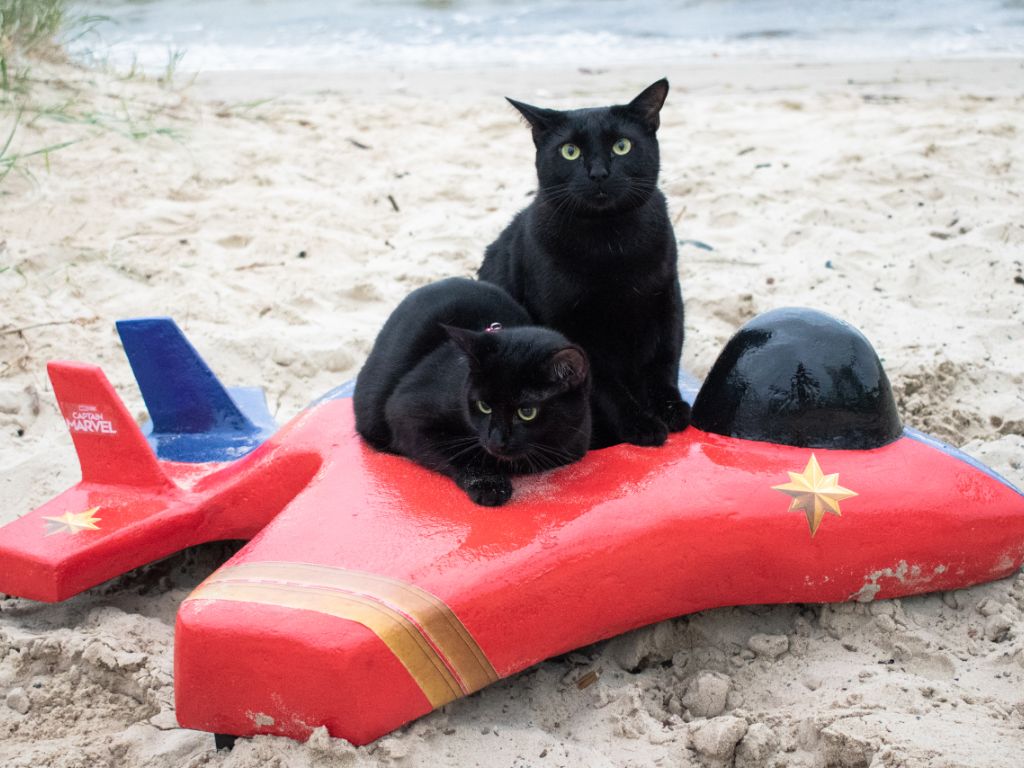 Feminism and felines in one film? Sign us up! When Captain Marvel announced they would have the appearance of the first cat in the Marvel franchise, we knew they needed us on board. Happily, we agreed. One of the many things we're good at is getting people excited about cats! So Power Pets x Captain Marvel was a match made in heaven.
Nathan the Beach Cat has some especially super powers on Instagram and ~made waves~ when she was spotted in a Captain Marvel fighter jet. Who do you think gets to choose the music, Nathan or Winnie?
While they were zooming around in their jet they probably crossed paths with Scooter from House of Kittyliciousness. Turns out you don't need opposable thumbs to drive one of those things….or maybe that's why we only have pictures of them on the ground.
Did anyone catch Lulu and Finn goosing around in their custom jet? You see what we did there? Anyway, shout-out to Marvel who now have a role model for all of our fur friends to look up to.
One cat who'd like to use their powers for evil and not good is Princess Alaska Ragdoll (no surprises there). Cats these days, they'll do anything for treats.
One great part about being in this campaign is that now our cats can flex on the 'gram and show off their new rides. Milly and Mr Penny thought so at least.
We may have had a few crashes along the way, but overall we'd call this a success! And the biggest lesson we learnt was never underestimate your cat, they may have tentacles you don't know about. (If you don't get that, maybe head out and see the film).
Looking to get our pets powers on your side? Click here to find out how.